Atelier GET INTO PLAY
Ich erlebe meine Arbeit in erster Linie als Zusammenwirken von Personen. "Person" kommt von lat."personare" und heißt "durchtönen/durchklingen". Im Zusammenspiel erleben wir Freude und Wertschätzung. Als Regisseurin und Musikerin begleite ich die Entwicklung von Spielregeln als Mitspielerin im Geschehen. 
Im Yoga nennen wir das "Lilah".
Sandy La S. Schwermer, 

artistic director of Atelier GET INTO PLAY 


My work primarily adresses interactions of "persons". "Personare" is Latin and means to "sound through". As a director and musician I mentor the development of these rules as one player in the team. In Yoga you call it "Lilah".
Sandy La S. Schwermer, 


artistic director of Atelier GET INTO PLAY


WATCH ON YOUTUBE:
Theatrical Laboratory SRH School of Popular Arts VIDEO
Thank you to Prof. Brigitte Biehl,  Creative Industries Management SRH Sopa Berlin as well as Prinzenallee 58!
—————————————————————————————————————————-
Upcoming Workshops:
SENSING SPACE 22nd May 2022, please contact for further information.
CONTACT: mail@getintoplay.com or please call 0049 (1)76 62627145
Fotos: Mateij Vidmar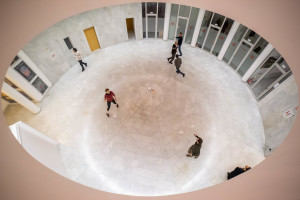 PERFORMING ARTS
–
Atelier

Wir spielen. Lohnt sich das? Was gewinnen wir?
We play. Is it profitable? What is there to win?
Das Atelier GET INTO PLAY…bietet ein offenes Feld für Kommunikation, Performance, Theater, Musik, (Weiter)Bildung, Wissenstransfer und Künstlerische Forschung: Spielpraxis/Objekt/Musik.

Das Atelier GET INTO PLAY … offers an open field for communication, performance, theater, music, (further) education,  field -Transfer and artistic research: Play/ Object/ Music. 
– – –
GET INTO TOUCH