https://www.facebook.com/pg/Getintoplay/community/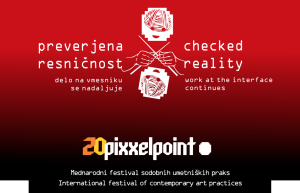 "Berlin multidisciplinary artist Sandy Schwermer focuses on inanimate objects as a source of creation and gets them involved in performative (research) processes that point towards insight and awareness. Sandy started her career in Canada/Montreal as a director of staged concerts, giving research workshops, artistic coaching, compositing and animating inanimate objects. She is teaching at hdpk Berlin (Hochschule der populären Künste, Berlin). Her work is characterized by conscious interference of analogue and digital production."
Birds hidden. Bars obvious. Performance Sandy Schwermer, Opening Act for pixxelmusic Festival
On a canary cage, Sandy Schwermer evokes a wave of sounds, moving from danger to release. Listeners linger in textures between life and death. Canaries were brought into mines to react when there is gas in the mine, their sensitivity was lifesaving for the miners. Canaries, the first ones to sense danger.
Fotos: Anja Ibsch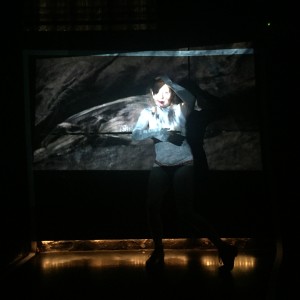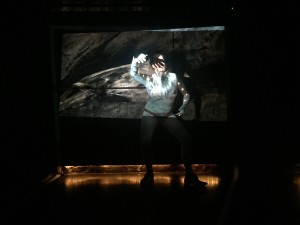 WORKSHOP: SENSING SPACE, Sandy Schwermer
Fotos: Mateij Vidmar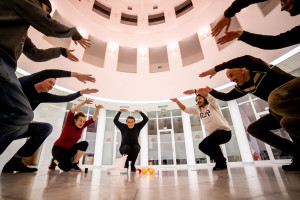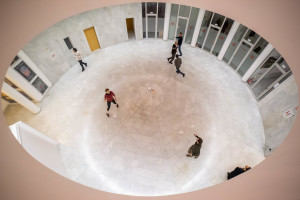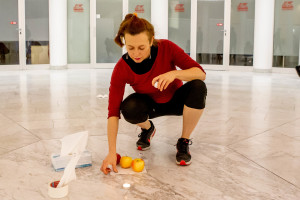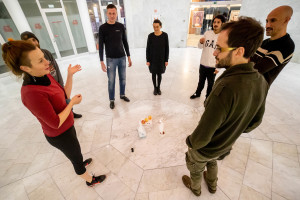 Kunst ist die Botschaft. Das Atelier GET INTO PLAY im Atelierhaus Australische Botschaft Ost 2017-2019

PERFORMING ARTS
–
Atelier

Wir spielen. Lohnt sich das? Was gewinnen wir?
We play. Is it profitable? What is there to win?
»Das Atelier GET INTO PLAY…bietet ein offenes Feld für Kommunikation, Performance, Theater, Musik, (Weiter)Bildung, Wissenstransfer und Künstlerische Forschung: Spielpraxis/Objekt/Musik.« Sandy Schwermer

»Das Atelier GET INTO PLAY … offers an open field for communication, performance, theater, music, (further) education,  field -Transfer and artistic research: Play/ Object/ Music.» Sandy Schwermer
– – –
GET INTO TOUCH