Sandy Schwermer, PERFORMING ARTS
Atelier

Wir spielen. Lohnt sich das? Was gewinnen wir?
We play. Is it profitable? What is there to win?
»Das Atelier GET INTO PLAY…bietet ein offenes Feld für Kommunikation, Performance, Theater, Musik, (Weiter)Bildung, Wissenstransfer und Künstlerische Forschung.«

»Das Atelier GET INTO PLAY … offers an open field for communication, performance, theater, music, (further) education,  field -Transfer and artistic research.»
Sandy Schwermer, performer, direction artistique
NEWS: 26.6.-28.6. 10:00-14:00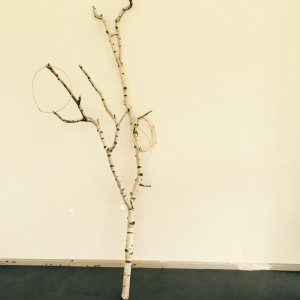 Sensing Space – the discovery of the performative body
WHERE?
OLD Australian Embassy (Pankow)
Grabbeallee 34, 
  13156 Berlin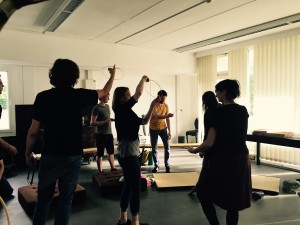 Top floor
on Tuesdays 19:00-21:00
Drop in: 19 Euro/session
(professional performers, dancers, authors, actors, musicians are welcome to participate)
Please bring casual clothing to move in space!
registration: mail@getintoplay.com, limited number of participants: 12
This workshop explores opening the senses towards the creation of space, inner and outer space. The mental and physical body get associates to create your very own movement and expression in reference to space and time, initiated by sounds, images and objects. Participants will challenge the qualities of inanimate objects and learn how they effectively become  associates in the creation process of unique self-motivated performance.
Sandy Schwermer, performing artist, award as cultural pilot (Kulturpilotin) of the Federal Republic of Germany, stimulator, metteure en scène, director in productions of object theatre, artistic director of the supporting programm Festival "Theater der Dinge" Berlin 13th-17th October 2017, Schaubude Berlin.
This workshop will be supported by Ray Backes, personal trainer/ awareness in movement, www.ray-backes.com
2. OG, Grabbeallee 34, 13156 Berlin
OLD AUSTRALIAN AMBASSY, JETZT: NEUE BOTSCHAFT.
REGISTRATION/INFO: mail@getintoplay.com
http://woven-theatre-project.com
Sandy Schwermer arbeitet in ihren Produktionen auf der Schnittstelle von bildender/darstellender Kunst und Musik. An Universitäten hält sie regelmäßig Vorträge und Workshops zu künstlerischen Produktionsweisen und Interdisziplinarität.
ENG
Sandy Schwermer works on the interface of visual/performing arts and music. As a freelance lecturer at Universities she offers impulses and workshops focusing artistic production and interdisciplinarity.
KOOPERATIONEN
http://www.woven-theatre-project.com
http://www.puppenphilharmonie.de
GET INTO TOUCH