Habseligkeiten #1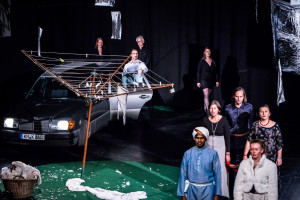 Foto: Thore Rehbach
DEUTSCH (English below)
Was wurde dir hinterlassen? Was hast du jetzt, was bleibt, wenn du gehst? In Habseligkeiten kondensieren Geschichten aus den Begegnungen mit Menschen in Situationen zwischen "noch nicht" und "nicht meh
r", in Berlin, Montreal und den Camps von Qushtapa & Kawergosk. Das Kollektiv um Sandy Schwermer spielt mit Dingen, Instrumenten und Bildern. Gibt es eine gemeinsame Formel für das Glück? Woran erfreut sich der /die Deutsche? Wo liegt der Reichtum
bei den Kosmopoliten, den Deutschen, den Geflüchteten in einer Stadt wie Berlin? Habseligkeiten #1 bildet den ersten Teil der Aufführungsreihe und legt die Lupe auf "haben" und darüber "selig" sein. Die Aufführungen resultieren aus Begegnungen mit Menschen, die das Projekt "Habseligkeiten" mitgestalten.
»Mein Kollege Hans Jörn Brandenburg schickte mir 2015 das Gedicht "How to paint a portrait of a bird" (Jacques Prévert, Pour faire le portrait d`un oiseau). Ich legte es zunächst zur Seite und holte es erst wieder hervor als ich im Januar 2018 von meiner zweiten Reise nach Erbil im Irak mit Woven Theatre Project wiederkam. Ich brachte dort Syrern und Syrerinnen, die in den Camps von Qushtapa und Kawergosk untergekommen waren, das Objektspiel nahe. Ich wurde Zeugin, wie im Spiel mit Objekt der Kanal geöffnet wurde der den Fluchterlebnissen der Menschen einen Ausdruck verlieh. Im Spielraum war Freiraum. Sorgfalt war oberstes Gebot. "Erase one by one the bars/ While being careful not to touch any of the feathers of the bird", heißt es im Gedicht bei Prévert. Meine Dankbarkeit für jeden geteilten und mitgeteilten Moment auf meinen Reisen ist groß. Mögen die Gitterstäbe entfernt werden, mag der Vogel unversehrt bleiben.«
Habseligkeiten #1 (Belongings #1)
What was left for you? What do you have now, what is left when you leave? In Habseligkeiten #1 (Belongings #1), stories of encounters with people condense in situations between "not yet" and "not an ymore", in Berlin, Montreal and the camps of Qushtapa & Kawergosk. The collective around Sandy Schwermer plays with things, instruments and images. Is there a common formula for happiness? What is the German enjoying? Where is the wealth of the cosmopolitans, the Germans, the refugees in a city like Berlin?
Habseligkeiten #1 (Belongings #1) is the first part of the series of performances and puts the magnifying glass on "to have" and being "happy" about it. The performances result from meetings with people who helped to shape the project.
»In 2015 my colleague Hans Jörn Brandenburg sent me the poem of Jacques Prévert. I initially put it aside. After my second stay in Erbil in Irak with Woven Theatre Project, January 2018, the poem evoked my deep interest. In Erbil, I gave a workshop on object theatre to Syrians based in Qushtapa and Kawergosk and witnessed the value of the object as a medium to express stories and experiences of their flight. There was freedom on a playful scope, provided by the nature of the workshop. Jacques Prévert wrote "Erase one by one the bars/While being careful not to touch any of the feathers of the bird". Care was top priority during the workshops. I am grateful for the shared moments and stories experienced on my journeys. May the bars be erased and may the bird stay entirely intact.«
La S. Schwermer
First paint a cage
With an open door
Then paint
Something pretty
Something simple
Something beautiful
Something useful
For the bird…
[…]
If the bird does not sing
It's a bad sign
A sign that the painting is no good
But if it does sing it's a good sign
A sign that you can sign.
Then you gently pull out
One of the feathers of the bird
And you sign your name in a corner of the painting.
Jacques Prévert, "How to paint a portrait of a bird" (translated by Eugene Levich)
TEAM
Sandy LA S. Schwermer – Performing Arts | Workshops | Lectures
Founder of the Atelier GET INTO PLAY. She works as a singer, director and performer, gives lectures and workshops about cooperative game theory at universities in Germany and abroad. Her work focuses on performances and staged concerts with objects and puppets.
Nana Ehrsam – Musician
Waldorf and circus student, currently in the Abitur class at Händelgymnasium Berlin. Preparatory studies at the Friedrichshain-Kreuzberg Music School for clarinet and piano, scholarship from the Pradé Foundation.
Saumeth – Musician | live synths | ambient |experimental Saumeth Music & GARE MAT K
Hans Jörn Brandenburg – Musician | Composer | Arranger
Musical director and arranger for theatre productions, film and Art installations. Collaboration with directors like Robert Wilson,George Tabori,Nikolas Stemann and videoartist Julian Rosefeldt. You can hear his music at soloconcerts,moviescores and with his Tanger trio & Ensemble Mondaine.
Marion Ehrsam – Painting | Scenography
Painter, designer, photo and interior designer at home and abroad. Initiator of 'kunst und design im wedding' and freelancer for the Edith Maryon Foundation. Swiss refugee and European citizen – currently a full Berliner in the Atelier Australian Embassy.
Reinhard Hubert – Technical director and lighting designer | Sound and video technician Working a.o. with Familie Flöz, Westfälisches Landestheater Castrop-Rauxel, Ruhrfestspiele Recklinghausen, Folkwang Tanzstudio, Kompanie Daniel Goldin, Rodolpho Leoni Dance and Henrietta Horn.
Silke Meyer – Visual Artist | Graphics | Bee Keeping & Art
Under SALZUNDHONIG she works as independent art director in cultural contexts and bee communities. This involves the development of visual concepts and info graphics, multimedia design, editorial and layout, and related thematic workshops.
Ray Backes – Movement & Structure | Personal Trainer, Wing Chun-Kung Fu Trainer. From my enthusiasm for movement, the wish to reveal the potential in Others grew. Each way starts with the first step. I attend a while and look forward, if further steps get independent.
Nicole Otte – Production management
Free production manager, Creator/Developer of the "Woven Theatre Project" in cooperation with the Goethe Institute in Erbil, Iraq.
AUSUFERN Team:
Konzept | concept: Barbara Friedrich & Eva Maria Hoerster Programmleitung | program: Eva Maria Hoerster Produktionsleitung | production manager: Annette van Zwoll